Agents of Mayhem, a 3rd person open-world action game set in the city of Seoul, is the newest IP from Volition, the creators of the Saints Row series. Volition decided to stay in their comfort zone here as this game shares many features of the Saints row series.
The game starts out with the evil corporation L.E.G.I.O.N surfacing and taking over the world on what everyone refers to as "Devil's Night". You are a part of the Mayhem corporation and tasked with stopping L.E.G.I.O.N. and saving the world. Yes, this game's narrative is not quite as powerful as The Last of Us, but I will get to that later on. The thing that sets Agents of Mayhem apart from other open-world games is that you have 12 different agents that you can unlock and swap between as you progress through the game, which really keeps things fun until the end.
The Agents are the Stars
Game play is king in Agents of Mayhem, as it offers a unique and exciting experience that never gets old. You have 12 agents that you can choose from in the load out menu, and you can choose three to swap between at all times in the open world. All 12 agents are generally fun to play as, although some are not that unique and different as far as design goes. Volition hit a home run as all 12 agents feel and play differently, which keeps the experience fresh throughout the entire story. Each agent has a special ability and a mayhem ability, which help make each character feel different. Whether you are blasting L.E.G.I.O.N. troops back with Hardtack or sneaking around the battlefield with Scheherazade, Volition offers a fun experience to play till the end.
The objectives are never unique or varied though, it's always a variaton of clearing a room of enemies or destroying all power stations. The game also has a Diablo style difficulty setup with 15 different difficulty levels, and as you play with higher level agents the game recommends higher level difficultly settings. The last operation did ramp up the difficulty a bit but other than that the game does not offer much challenge, even if you play a few levels above the recommended level. Other than not offering much challenge or not having unique objectives, Agents of Mayhem is a blast to play through.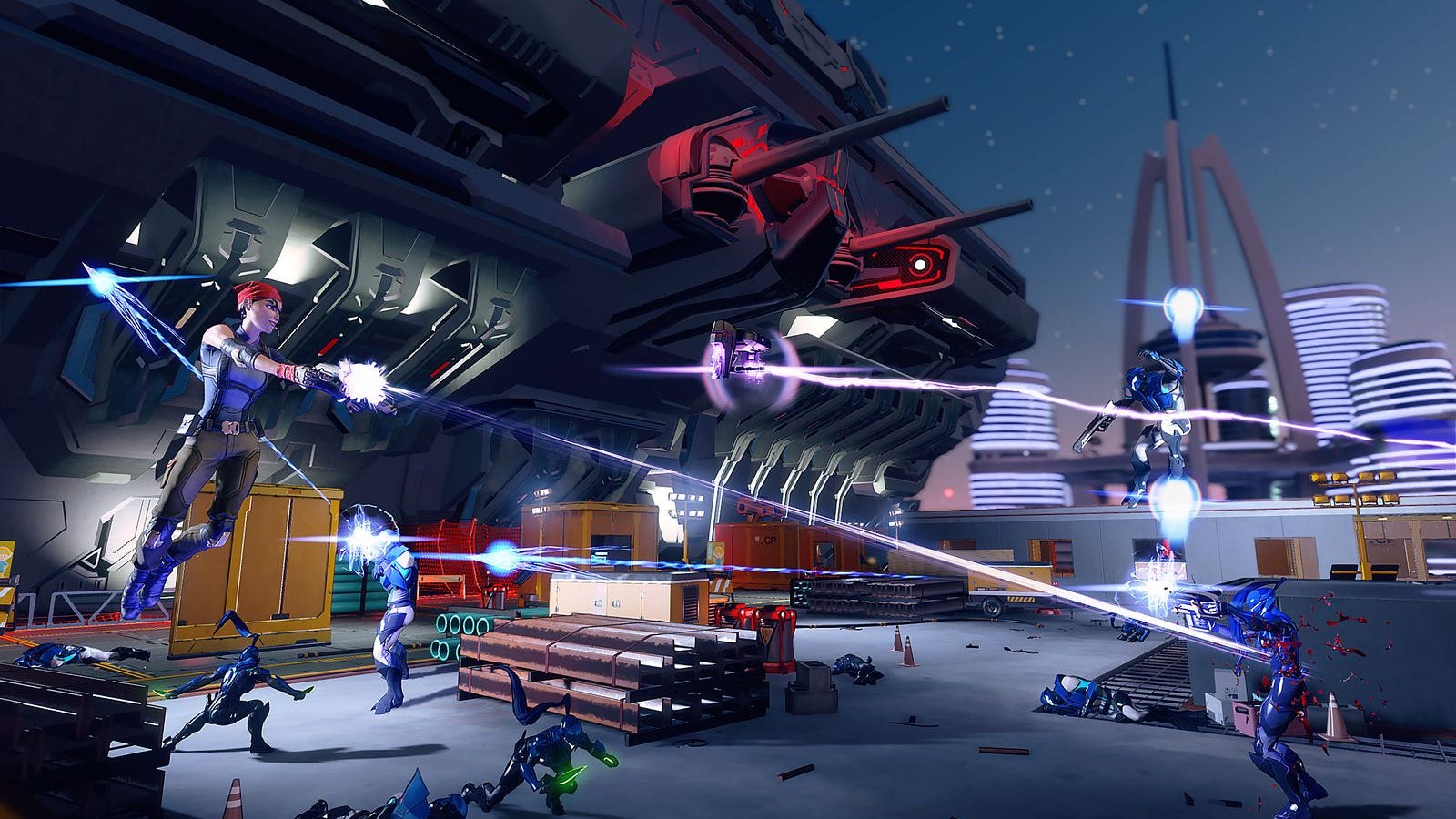 Less Time More Power
Progression feels great as each agent levels up fairly quickly, and they can achieve a max level of 20. Agents that you have equipped in your current mission all earn the same amount of XP for killing an enemy or completing an objective. When you level up or get new gadgets you can visit the Ark (which is like your base), where you can equip or craft gadgets and tech, and see your progression throughout the game. Each agent also has a small upgrade tree, that does offer some customization for your abilities. Agents also have 3 core abilities that make each character stronger, and you get them by using an upgrade core that can be found through exploration, main story missions or capturing an outpost. Once an agent reaches level 20, you can use upgrade cores to level them up to level 40, which increases their health, damage and shield each time you level them up. The ARK can also level up, and as it levels up you unlock upgrades for your base and more XP for completing operations.
You can also unlock gremlin tech, powerful weapons to help make life a bit easier. Crafting is required to get gremlin and L.E.G.I.O.N tech, which I will more talk about a bit later. Crafting is pretty basic and generic as the game throws the materials at you. Each agent also has gadgets that they get from completing a mission or taking an outpost, and you can use the gadgets to change their special ability or to modify their weapons. When an agent reaches level 9 they have the ability to craft L.E.G.I.O.N. tech, which adds another ability to their specials or weapons, but the only way to get L.E.G.I.O.N. tech is to complete L.E.G.I.O.N. lairs. These lairs are generic dungeons that offer nothing new to the game, and it sucks that they are the only way to unlock L.E.G.I.O.N. tech. Global Conflict and the open-world is the only way to unlock them.
Global Conflict is where you send agents you are not using to investigate L.E.G.I.O.N. activity all around the world. This unlocks L.E.G.I.O.N. lairs and contracts which you can complete to gain rewards. You can also unlock weapon skins and character skins for each agent as you find loot boxes around the city or completing a task within the open-world. Progression in this game feels great as each agent truly feels more powerful after some time with them.
Seoul: A Step Back
Content is average at best, as it took me 18 hours to complete the main operations or story, and that was after completing most tasks and all of the agent backstory missions. The length would not be a problem but if you offer a game with 20 to 25 hours of content to do everything, the tasks and activities should be at least somewhat compelling and worthwhile, but they are not. The tasks are all generic and do not offer rewards that are worth going out of your way to complete them. Also the open-world of Seoul is very generic and offers nothing new to the genre, especially when comparing it to the likes of Breath of the Wild or The Witcher 3.
Tasks or activities in Seoul include taking outposts from L.E.G.I.O.N. that can unlock activity in the area, which are usually dull tasks like hostage rescues or destroying enemy equipment. This game offers nothing new as far as open-world design and takes a disappointing step back when compared to other open-world games released this year like Zelda and Horizon. It doesn't matter how much fun the combat is either, it's just a chore to complete the majority of the tasks in Seoul.
Agents of Mayhem's open-world is something that has been done before,with the previous Saints Row games doing it much better. The city of Seoul is not worth exploring, as you can only collect crystal shards that unlock upgrade cores for every ten you find, but after you complete a certain amount of the story you will have more than enough. Luckily the agents, fun combat, and hilariously over the top dialogue keeps this one fun from the beginning to the end, for the most part.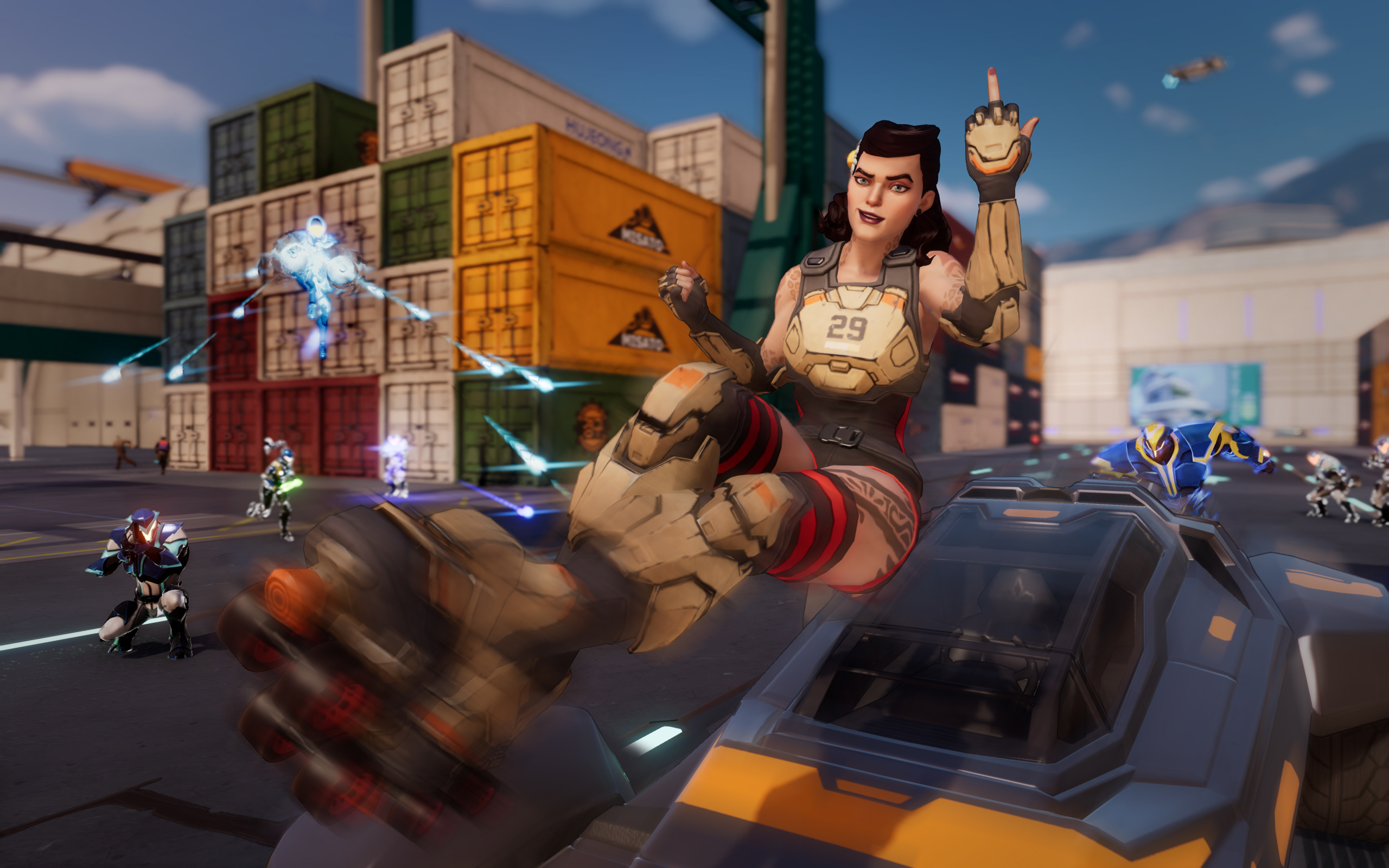 Exactly What it Needed to Be
Let me start off by saying that this game is funny, the dialogue between characters is great and just adds to the fun. Volition understands that this game is not going to impact anyone story wise, so they made an over the top, good vs evil story that doesn't detract from the experience at all. The villains are mainly bland and never really get me to involved in the story with the exception of an AI that gains emotions. Other the than generic villains, the story knows exactly what it needs to be: a fun and over the top narrative that never takes itself to seriously.
But the story also ends with sequel baiting, which is fine, but it feels like Volition could of put all the focus on this story and worry about a sequel after they see how this game performs. Obviously Volition wants to make a franchise with this IP, but it feels like more content could have been added to the story. Agents of Mayhem's story is exactly what it needed to be, while it does not necessarily add to experience, it's definitely enough to help keep the game fun.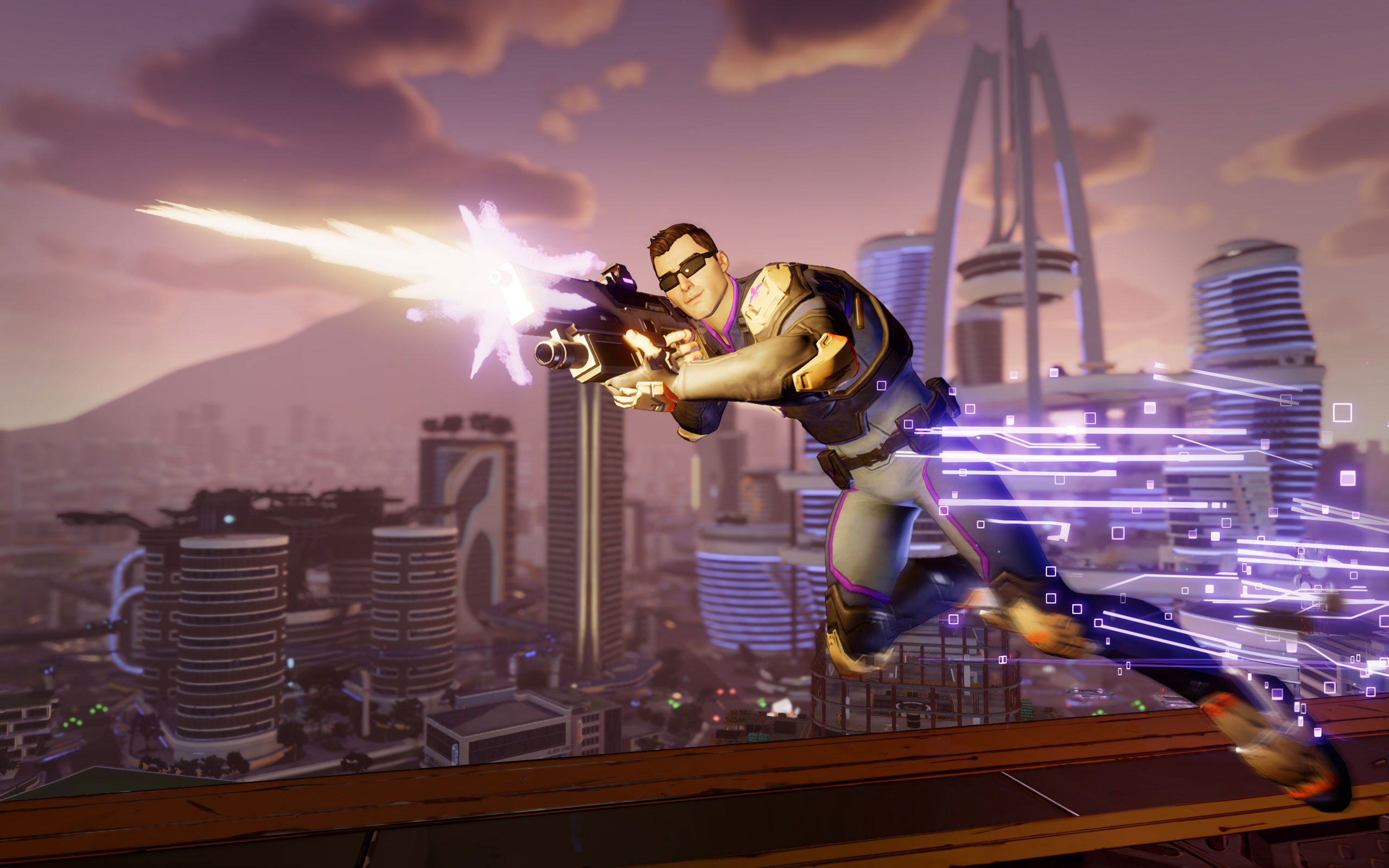 Summary
The Agents are the star of the show and for good reason. Agents of Mayhem is an over the top, hilarious and fun open-world action game. The progression is great and the story does not detract from the experience at all. It's open world is a step back and it is very light on the content side when compared to other modern open-world games. It's objectives and tasks are very generic and repetitive which does take away from the experience a bit. In the end the agents and combat mostly make up for it and keep this game fun all the way through. However, I would recommended on waiting for a sale on this one, as there are much better experiences in the open-world genre. (7.0/10)
Make sure to stay tuned for anything Agents of Mayhem and gaming related here at Sick Critic.