2017 was a spectacular year for games, as we got modern day classics such as The Legend of Zelda: Breath of the Wild and Persona 5, but 2018 looks to be as good, if not better. With highly anticipated sequels such as Red Dead Redemption 2 and Ni no Kuni II: Revenant Kingdom, as well as new IP's such as Anthem and Biomutant, we thought we would put together a list of our most anticipated titles for the upcoming year. Our list also includes titles we most likely won't see release in 2018, but our excitement level for these games are too high to leave them off the list. Let's get started!
Monster Hunter World
The latest main entry in the widely popular Monster Hunter series, shifts from portable consoles to the PS4 and Xbox One. The change allows for a shiny new look, as the series looks better than ever on the big screen. The latest entry also attempts to stay true to the deep and engaging co-op monster slaying Monster Hunter is known for. Monster Hunter World boasts the biggest map yet, as the world is full of diverse and giant monsters to slay. Monster Hunter World looks to please hardcore fans, as well as appeal to new fans of the series when it releases on January 26 of next year.
Sea of Thieves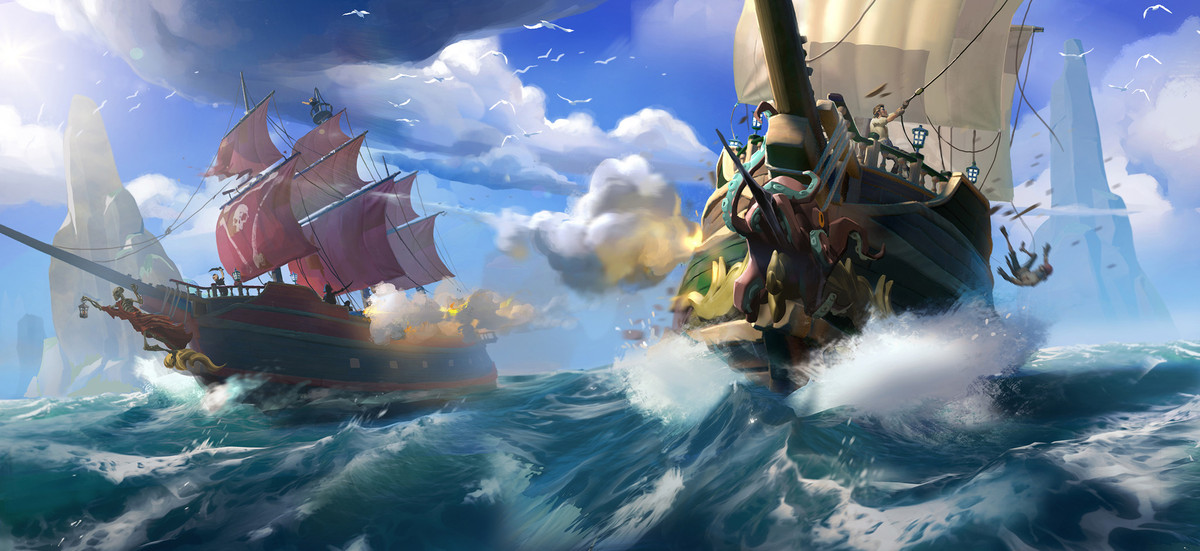 Sea of Thieves, the upcoming pirate sim from Rare, has had my full attention ever since its announcement in 2015. Even though details for the game have been scarce, the idea of exploring a giant map with your friends and engaging in ship to ship or on the ground combat with other players has been able to keep me interested in this unique multiplayer experience. Sea of Thieves is such a promising title, and I hope it ends up offering the experience Microsoft has been promising, when it releases on March 20 of 2018.
A Way Out
A Way Out is the co-op experience I have been waiting for, with local co-op (instead of online) being the games main focus (you can still play online with a friend though). A Way Out sees two unlikely allies join forces to break out of prison, and then follows them on an unforgettable journey, that requires you and a friend to have to work together to see it through to the end. A Way Out is said to be a very cinematic game, as the trailers shown so far have definitely been more cinematic than most, and it probably helps that the games Director Josef Fares used to be a film maker. Josef Fares is also very passionate about the game, as he has says thing like, "If you don't like it, you can break my legs", if that doesn't get you excited, I don't know what will. A Way Out is the co-op experience we have been waiting for, March 23 couldn't get here any sooner.
Ni no Kuni II: Revenant Kingdom
The first Ni no Kuni, is one I regret not ever getting around to giving it a shot, as the art style, combat and story all looked to be right up my alley, but now that Ni no Kuni II: Revenant Kingdom is releasing next year on the PS4, I am finally going give this series a shot, and from everything I have seen so far, it looks to be even more enjoyable than the first title looks. The story, set a few hundred years after the first title, follows Evan, a boy king on a quest to reclaim his kingdom, so if you missed the first title like me, you can jump into this one without having to catch up. Ni no Kuni II: Revenant Kingdom is the RPG fans of the genre should not miss when it releases on the PS4 on March 23, 2018.
Far Cry 5
Far Cry 5, one of the biggest releases of the year, is the latest entry in the widely popular FPS franchise. Far Cry 5 changes it up this time around as it is set in modern day U.S., instead of a more diverse region like Far Cry 4's Kyrat. The new setting has us very excited, as it looks to offer a new take on the series. I do hope they decide to change up the gameplay a bit more, as the jump from Far Cry 3 to Far Cry 4 was very minor as far as gameplay goes, but from what we have seen so far, it looks to offer a new take on the series, and it has me anticipating its release in just a few months on March 26, 2018.
God of War
God of War, arguably Sony's biggest exclusive of the year, has us excited for so many reasons, whether it's the new combat system or transition to Norse mythology, we have been eagerly awaiting this title for a while now. The new over the shoulder camera angle allows for a closer look at the revamped combat system, which looks better and better with each new trailer. The addition of Kratos' son offers a great opportunity for Cory Barlog and his team to put together a compelling narrative alongside the intense combat system. God of War's early 2018 release couldn't come soon enough.
Crackdown 3
In Crackdown 3, you are a super-agent, who uses powers to fight crime, but most importantly, smashes shit to pieces. Crackdown 3 features the biggest destructible environments in the series to date, with the largest building being twice the size of any in the first title. Crackdown's biggest draw though is the ability to destroy the games environments with three other buddies in co-op play. Crackdown 3 looks to offer some mindless fun this upcoming spring, as long as it doesn't get delayed again.
Red Dead Redemption 2
Red Dead Redemption 2, the upcoming prequel to Red Dead Redemption from the company that does no wrong, Rockstar, has everyone and their mother excited for its release in spring of next year. This time around, players take control of Arthur Morgan, (who seems like a real ass in the latest trailer) a member of Dutch's gang. Red Dead Redemption 2 will also include a multiplayer mode like the insanely popular GTA Online from GTA V. While we haven't heard much about the upcoming western epic, the idea of performing crazy train heists and bank robberies with Dutch's gang has us more than excited for its release sometime this upcoming spring.
Detroit Become Human
Detroit Become Human, focuses on your decisions, as the story is shaped by the choices you make. Detroit Become Human offers a unique set of stories for players to engross themselves in, as the story encapsulates on three different androids in a world where they are seen as servants. My excitement level has grown with each trailer, attempting  to tackle serious issues, while offering an interesting narrative. Detroit Become Human looks to entice players in its branching narratives, when it launches sometime in the first half of 2018.
Spider-Man
Oh where to start, the newest Spider-Man title looks like a dream come true for fans of the web slinging hero. With the Batman: Arkham style gameplay and the new take on Peter Parker, everything about Insomniac's Spider-Man seems to click. The story follows an experienced Peter Parker and his quest to take down Mister Negative, also known as Martin Li, a prominent citizen who works with Peter's Aunt May. The story allows for a new take on the hero, and I cannot wait to see Insomniacs' plans for Spider-Man. The gameplay shows off incredible mechanics, as slinging through the city looks seamless. Spider-Man hits the PS4 sometime in 2018.
Days Gone
At first, I thought Days Gone would be another generic zombie shooter, but after seeing more of the game from Sony Bend, my excitement has increased exponentially. Days Gone is a bit different from most zombie titles, as the zombies (freakers), are fast and can fill up the screen, which leaves you with only one option: Run. While at first, I thought it would lead to a lot of dull combat encounters, but after seeing more of the games mechanics, the idea appears sound. I'll be one of the first to take out line after line of "freakers" when Days Gone launches sometime in 2018.
Biomutant
Biomutant is an open-world action-adventure game from the creators of Just Cause, which caught the eyes of everyone when it was revealed last year. Biomutant implements a unique character design and combat. The combat looks to be a blast as it involves melee and ranged weapons, which allows for multiple ways to take out the various enemies. Biomutant also has a very interesting world that looks to be full of unique locations and characters, and I cannot wait to explore it sometime in 2018.
Code Vein
Code Vein is an vampiric action RPG, that has drawn many comparisons to the Souls series for its dark world and challenging combat. Code Vein has me very excited, because it looks to offer more than just another Souls clone, as the story and world building all look to come together to offer a unique dark and compelling story, that takes place soon in the future where monsters roam the streets in a ruined world, and you are tasked with taking them out. The anime art style also goes well with the dark story elements. Code Vein looks to be a must play for fans of the RPG genre when it hits shelves sometime in 2018.
Kingdom Hearts III
For Kingdom Hears III, one of my fellow Staff Writers Nathanael Hueso, is a huge Kingdom Hearts fans, so he is going to take over Kingdom Hearts III.
"I'm still not convinced Kingdom Hearts III is launching in 2018, but only because it's been over a decade since KH II launched. The Kingdom Hearts series means more to me than any other group of games. I've been touched on such a deep level by everything that makes the series great that I can't help but overhype Kingdom Hearts III. Every spinoff and painful delay has led to this moment and everything I've seen so far leads me deeper into a sense that it will turn out fantastic. Whether or not the gameplay and story end up gelling, I know I'll get a life-changing soundtrack from Yoko Shimomura. Kingdom Hearts is finally getting another numbered entry with Sora, Riku, and the main cast; it's finally sinking in. Don't screw this up, Square-Enix."
-Nathanael Hueso, Staff Writer
Anthem
Bioware looks to be going in a new direction with the Destiny inspired Anthem. The 3rd person sci-fi shooter, takes place in a vast shared world where players can tackle objectives with a friend or own their own. This is a very ambitious project for Bioware and it looks very promising, as the gameplay shown so far looks to offer a new take on the Destiny formula. I can not wait to jump into the giant sci-fi world Bioware has created with a buddy, when Anthem launches sometime in fall of 2018.
Mega Man 11
After years of thinking the Mega Man series was dead, Capcom surprised fans with the announcement of a new Mega Man title coming late in 2018. The latest entry in the series will feature 3D environments and characters, moving away from the pixel art in previous titles. The idea of a new entry in the Mega Man series has a lot of us here at Sick Critic excited as it has been years since a main line entry in the series, and after the very disappointing Mighty No. 9, we are all ready for another great title featuring the blue bomber, so don't screw it up Capcom.
Ghosts of Tsushima
For Ghosts of Tsushima, one of our editors Maxwell Broggi-Sumner, is going to take over.
"My first PlayStation was a PS3, which I got almost exclusively to play inFamous and the sequel. While the second game is my favorite in the franchise (and still on my top 10 games of all time list), Second Son on PS4 was no slouch, and the Festival of Blood and First Light DLC's were also fantastic. Since the beginning of 2015 I've been hoping that any major game conference would include some announcement from Sucker Punch. Earlier this year, they finally spoke up. While it wasn't a new inFamous title, they announced samurai simulator Ghost of Tsushima, which immediately captivated me. Open world games have take us to many, many places, but never to somewhere like feudal Japan, and I'm excited to see how Sucker Punch goes about recreating it. Although they've yet to set a release date, I'm (perhaps optimistically) hoping to be spending my summer fighting my way through 13th century Tsushima."
– Maxwell Broggi-Sumner, Associate Editor
The Last of Us: Part II
The Last of Us is one my favorite games of all time, so naturally when its sequel was announced in 2016 at PSX I got very excited. My hype for Part II has grown with each passing day, as we have received two very brilliant trailers that raised some questions about where they are taking the story, while also introducing new characters. Part II has me so intrigued with its story, that I can not wait much longer to find out what happened to Joel and Ellie, and I have no doubt in my mind that Neil Druckmann and his team have another winner on their hands with Part II, I just hope we receive it sooner rather than later.
Death Stranding
For our final entry on the list, our Head of Public Relations, David Fraley, is going to let you know why the PS4 exclusive, Death Stranding, should be near the top of your most anticipated upcoming releases!
"Death Stranding, the latest and hottest title from the industry vet Hideo Kojima, has really been turning the heads of gamers since first being shown off in the 2016 E3 conference. Ever since I saw that first trailer, I have been super intrigued by the game, both how it will actually play and the story behind it. Every video I've watched on it just keeps bringing more questions that I want answered and I'm hoping that either we'll get more video content to keep my hype train going or some actual gameplay for it. I was even super excited when P.T. got a demo because it was something that just intrigued me by the gameplay, the immersion I felt playing it and the questions it brought. Death Stranding, I'm hoping, will be no different and I really can't wait to find out more about what that game is and get my hands on it."
– David Fraley, Head of Public Relations
Those are our most anticipated upcoming titles, comment below and let us know what titles your looking forward, also make sure to stay tuned for anything gaming related here at Sick Critic.