God of War has always put action above everything else, and for good reason. The series was full of epic unforgettable moments, but as time went on fans began to find them stale and criticized anti-hero Kratos as being a one-note character who only knew one thing: revenge. This latest entry for the PS4 fixes these complaints, but it also seems to abandon the prior games for a more modern take on the franchise: the new combat system, switch from Greek to Norse mythology and a bigger focus on narrative seem to stray away from the God of War fans love, but the final product is not only able to push the series in a new direction, it also remains true to the series core. All of this adds up to a journey full of unforgettable moments, epic action, and most of all, heart, God of War is nothing short of a masterpiece that everyone with a PS4 should experience.
An Unforgettable Journey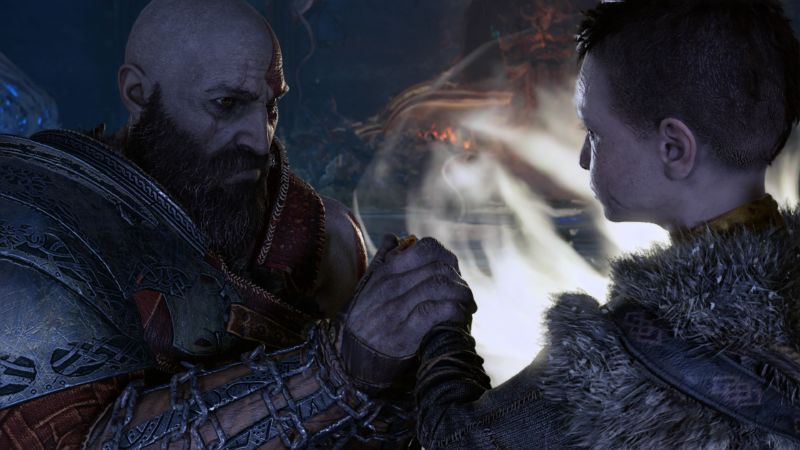 God of War takes place ten years after the events of God of War 3, with Kratos now living in a small home far away from the land of Greece. He now has a son, Atreus, that he has to care for after the death of the boy's mother. This leads the two on a journey to honor her final wish: spread her ashes atop the highest peak in the realms. The game's setup is simple, and allows for a new look at Kratos. Until now he has only been seen as a revenge fueled monster, but this time we see him as much more human. He's a father that is struggling to relate to his own son.
The relationship between Kratos and Atreus is the star of the show. Watching them go from near strangers to building a strong relationship is the best feeling I have gotten from a game in some time. Atreus is also the most compelling companion character since Ellie from The Last of Us; he always wants to help those in need, but he's also not afraid of a fight, which allows for enthralling dialogue between him and Kratos throughout the journey. The side characters are some of the best in recent memory as well, as I truly fell in love with all of them. Whether it was the hilarious dwarf brothers Brok and Sindri or the knowledgeable Mirmir, each character truly added to the experience while also serving a purpose in the game. The game's villain is also a truly compelling character with his own problems and reasons for his actions.
While the story shines in smaller moments between Kratos and Atreus, it is also full of classic God of War set pieces and action scenes, which continually had me screaming "DID THAT JUST HAPPEN?!". Even though the story is focused on Kratos and Atreus, it also offers a deep look into Norse mythology. Whether you're chatting with Mirmir or having Atreus read a rune, God of War offers worthwhile and engrossing stories from the mythology, which kept me interested after the credits rolled. God of War's narrative is as good as it gets for so many reasons, whether it was the emotional journey or lessons I learned about Norse mythology, God of War had me surprised, laughing, crying and screaming "HOLY SHIT!"all throughout.
Satisfying Action
God of War's combat focuses around a new weapon, the Leviathan Ax, and it is a blast to use, each strike with the Ax feels so satisfying. What made this Ax so special, is the ability to throw it and recall it at anytime, like Thor's hammer. This opened up the combat quite a bit and allowed for multiple options to take out enemies, as you could pin one to the wall so you didn't have to worry about them, or you could trip an enemy and run in for the kill.
The combat is much more tactical this time around, as each encounter requires you to choose your actions wisely while also dodging and parrying enemies attacks, which allows for a bigger challenge than previous games. Atreus is also a big part of the game's combat, as he can deal out a lot of damage through his bow attacks but you never have to worry about having to revive him every encounter. He can also choke enemies, opening them up to your attacks, Atreus is perfectly placed into the combat system, he can hold his own but also truly affect how encounters turn out. The boss fights are also some of the most memorable moments in the game, and while fighting giant creatures was a blast, the encounters with human sized enemies were just as epic.
You also have rune attacks at your disposal, which are similar to "special" attacks in other titles. They have a cooldown after use, you have a light attack rune and a heavy one, and each can be changed out with different attacks found through exploration. The rune attacks allowed me to get out of some tough situations when I was able to use them at the right moment, but they also helped keep the combat fresh throughout the entire journey as I was constantly finding new ones to try out. You also have a rage meter that builds up through combat, which is basically your "super" attack, and once it fills up, you can make light work of even some of the more formidable foes. God of War's combat is not only the best in the series to date, but it offers one of the deepest and most enjoyable systems I have ever played.
A Deep and Rewarding RPG System
Progression is second to none in God of War, I was truly able to create my own Kratos and the game constantly rewarded me with better equipment. Kratos has multiple stats such as strength and defense that can upgraded with better armor. Each set of armor is different, as some focus on the power of Kratos' rune attacks while others focus on defense, which allowed me to mix and match different armor pieces to create a more balanced build. The armor also affects the look of Kratos, which prompted me to get even more creative with how I could mix and match my build. Each set of armor can also be equipped with an enhancement, which permanently buffs a stat.
On top of all of that is a skill tree that unlocks more combos for the player to use, such as a new heavy attack or the ability to throw the ax at multiple targets. The skill tree is deep and full of new abilities that kept the combat fresh, even after 30 hours of gameplay. You can also upgrade your ax by finding a certain resource throughout the main quest, and like previous games you can find health and rage upgrades in chests that require you to complete a puzzle to open.
Atreus can also be deeply customized, as you can choose armor that focuses on his melee attacks or that focuses on him offering healing items in your times of need. He also has a skill tree that allows him to deal out more damage and increase his bow firing rate. By the end, Atreus felt just as powerful as Kratos, dealing out massive amounts of damage.
Impressive look at the Nine Realms 
It also helps that God of War is the prettiest game on the PS4 to date, whether it is the beautiful diverse locations full of insane detail or the life-like cut-scenes, God of War amazes from start to finish. Furthermore there are no loading screens except for when you start the game, which helps maintain the immersion. One of the most impressive things about God of War, though, is that the entire journey is shot from one camera angle, allowing you to experience the entire journey with Kratos. The amount of effort and time that went into this truly shows the devotion this team had to this project, and it pays off as having the camera never cut truly made me feel like I was Kratos. God of War is a technical marvel, full of detail that deserves to be recognized.
Exploring the Nine Realms was just as enjoyable as going through the main quest, as you're constantly rewarded with new items to increase Kratos' power. Each location also has an interesting story that you can learn more about through conversations with Mirmir, or by reading optional runes. Each side quest is also an interesting break from the story, and while some were a just fetch quests, they still managed to engross me in the narrative as Kratos was able to teach Atreus a lesson through helping others. Puzzles are also a big part of the game, the most unique ones involved throwing the ax to unlock to new paths, but others required you to use your brain to progress, which was refreshing right after caving a troll's head in. Exploration was extremely enjoyable, as I was constantly looks for a way off the beaten path just so I could learn more about this world.
A Long Journey Worth Taking
God of War is full of things to do, even after the credits roll on the 20 to 25 hour journey. There are multiple side quests, optional boss fights and hidden areas to explore. You can sink up to 50 hours into easily the longest entry in the series to date. It's not only full of things to do, but each activity is worth completing as you can unlock a new powerful set of armor or gain some more insight into Norse mythology. God of War is full of things to do, and most importantly it's all enjoyable and worthwhile content. I'll be returning time and time again over the next few months.
Summary 
God of War is nothing short of a masterpiece. The game has an emotional story that had me laughing, teary eyed, and screaming HOLY SHIT multiple times. The game's combat is one of the best systems I have ever played, deep and full of options. Atreus is also the best companion character in recent memory, as he is  always willing to help those in need, perfectly placed into the games combat, and never needs Kratos to watch him. The progression system is top notch, I was able to create my own version of Kratos and I was continually rewarded with better equipment. God of War is also a technical marvel, with each location full of immense detail and life-like cut-scenes. Exploration was a joy as I learned more about the world while also finding better equipment each time I decided it was time to explore. God of War is full of things to do, but most importantly each activity feels meaningful, which kept me playing long after the credits rolled. God of War excels at everything, it's not only the best game on the PS4 but one of the best experiences in recent memory.
This review of God of War is based on the PS4 version of the game.
In Short
God of War is nothing short of a masterpiece, that should be experienced by everyone with a PS4. With an emotional story, deep and tactical combat and a beautiful world to explore, God of War excels in every way imaginable.
I am a huge sports game fan, if I am not playing 2k or Madden, then I am probably playing the latest big release. I'm also a lover of all movies, but I have a soft spot for a good action flick.
Favorite Game of 2018: God of War
Favorite Movie of 2018: A Star is Born
 PSN:Dbayne2322  Xbox:Dbayne23